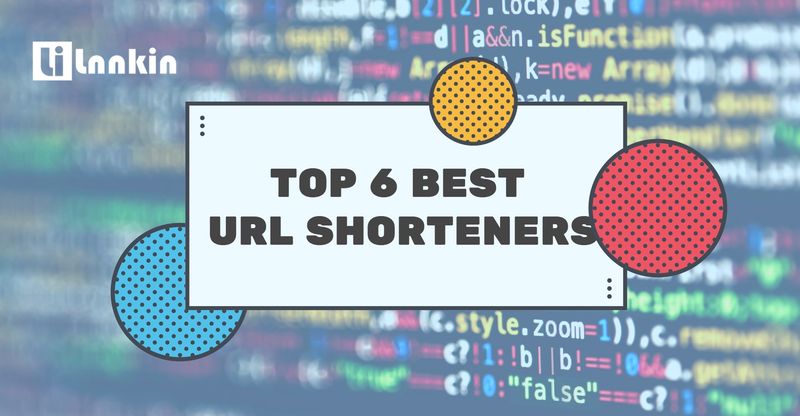 Top 6 Best URL Shorteners
Last updated: November 30, 2020
You can't deny that URL shorteners are a great tool for online marketers. Most digital marketers understand that small URLs are easier to share and more appealing to the target audience.
If you have a website or you are running an online promotion, you might want to use URL shorteners to make short links for your campaign. However, you need to have the best URL shortener if you are to create the most effective online campaign using short links.
So, what are the best URL shorteners that you can use? Well, based on features, reliability, and price, the following are the six best URL shorteners that you can use.
List of the top 6 URL shorteners
1. Goo.gl
On top of the list of the most effective URL shorteners is Google's goo.gl. This service was introduced by Google in 2009. However, early in March 2019, Google discontinued the service. While in operation, goo.gl had a number of amazing features such as:
Available for free
It was very easy to use goo.gl
Provides real-time data analytics for your short link
Link privacy
Spam detection system that provided security
With goo.gl off the market now, you have to depend on the remaining best URL shorteners.
Lnnkin is an amazing online tool that enables digital marketers to create short links using this intuitive URL shortener platform. The platform boasts of modern technology and advanced data analytics features to provide the best services to digital marketers. It is available with both FREE and PAID plans starting at $4.99/month.
The following are the main features of Lnnkin:
You can create branded links with your own branded domain
There is no limit to the number of short URLs you can create for free
Unlimited custom URLs. You could add a custom URL slug
Real-time data analytics of short links and performance
You can generate a QR code for your short link
You can delete short links
You can swap or change short links if you change your landing page
Your short links can be secured with a password
An advanced short links management system that allows you to control all your short links from a single platform
API access for automation
Creating short links in bulk
There are both free and premium features, depending on your exact needs.
3. TinyURL.com
If you are looking for a URL shortener for anonymous use, then TinyURL is the solution. It has the ability to customize the string appearing on your short link. One of the reasons why some digital marketers prefer TinyURL is because you do not need to register an account to create short URLs for your landing pages.
The top features of TinyURL are:
It has extra fast redirection speed
Users have the option to customize the URL as they want it to appear
It allows for anonymous usage
It is very easy to use this online tool
It is 100% free
However, the downside of this online tool is that it does not offer the advanced data analytics that a digital marketer would want. Therefore, you can consider it as the best free URL shortener in the market.
4. Bitly
Bitly URL shortener is one of the most popular, yet powerful, URL shortening tools.
There is a free service and a premium service. The difference is that a free service only allows you to use the domain of Bitly when shortening your links. Therefore, your URL will appear with a bit.ly domain. If you do not want this, you can opt for the premium service, which allows you to create your own domain name on the URL.
The paid version has other advanced features such as retargeting and advanced data analytics. It allows you to measure the performance of your campaign.
Here is the overview of the features:
It has audience intelligence for appropriate targeting
You can create a custom URL
You can integrate it with TweetDeck and Zapier
It has cloud-hosting capabilities
URL retargeting
Advanced analytics dashboard
5. Rebrandly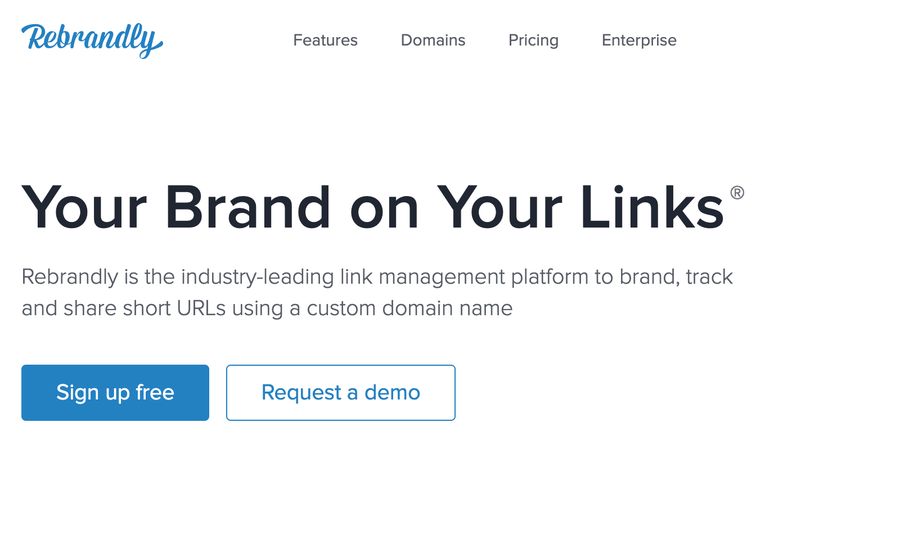 Rebrandly is one of the best URL shorteners because of its amazing use of technology to help digital marketers optimize their marketing campaigns. You can use this online tool to create your branded links that are memorable. The online tool is perfect for the creation and sharing of short links across various platforms.
There are tons of features that you get when using Rebrandly:
You can create bulk links
UTM parameters
Has API access
It has over 100 app integrations for smooth compatibility with external apps
You can even add emojis on your short links
Rebrandly uses great servers that allow rapid auto-scaling
The reports provided are customized
There is an option of private reporting
You can track all the clicks
The price that you pay is dependent on the features that you want to use. Otherwise, the paid options are starter ($29), pro ($69), premium ($499), and enterprise, which is negotiable. If you are unsure, you can start with their free package that has limits.
6. YOURLS
YOURLS is an acronym for Your Own URL Shortener. This online tool, just like others, lets you create and manage your short URLs. It is an open-source, meaning you can run and manage your own short links. You need to install the software for you to start creating short URLs.
Here is an overview of the features:
It is free to use this software
You can create either private or public links
You can create custom URL keywords
The dashboard has amazing data reports such as historical click reports, visitor's geo-location, and referrers tracking
It has a neat interface
YOURLS is free to use.